Survey Edit
Survey edit
You can edit your survey by clicking on the edit icon for that specific survey on the My Surveys page, or by simply choosing Survey Edit from the side menu. If you use the second editing option, you will be prompted to select the survey you want to edit and proceed to the editing page.
Edit all your default survey settings from the left sidebar. You will find here the settings for adding your own logo, creating your custom Done/Next and Previous buttons, configuring survey completion settings and customizing survey colors.
The top menu provides you with some useful buttons for your survey creation process. The Expand/Collapse button will either expand or collapse all pages in your survey – this is particularly useful for when you have very complex surveys with lots of questions. You can add new survey pages by clicking on the Add Page button. If you don't want to create your survey questions from scratch and need some help or inspiration, you can add questions or entire surveys from templates. Once you've saved the survey you're working on, you can preview and see exactly how it will look when you send it to your contacts.
On the right area is where you create your survey pages and questions. Let's start by adding a new page. You can edit the details of each survey page – title and description – and also move, delete, add or remove questions from a page.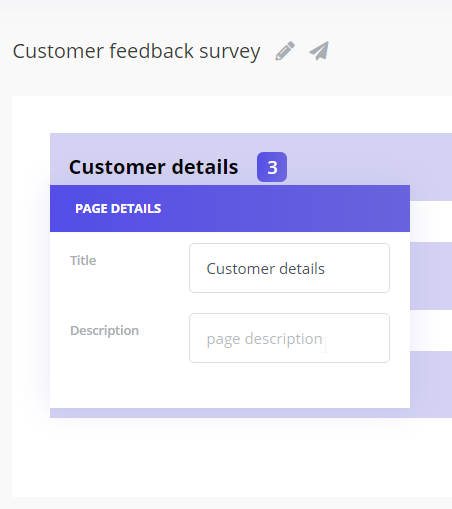 To add a question to your survey, first you have to open and edit a page. Decide whether you want to add questions by type, or by selecting pre-made questions from our questions collection.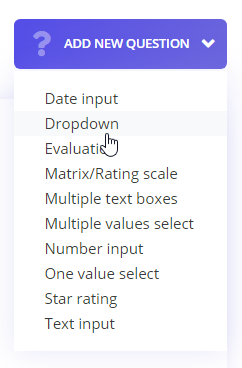 You can create multiple types of survey questions: date input, dropdown, evaluation, matrix/rating scale, multiple text boxes, multiple values select, number input, one value select, star rating and text input. Hover any question you've created and the Edit, Move, Duplicate, Delete and Drag buttons will appear.

Edit a question by clicking on the Edit button. Write the question, change its type, assign tags which only you will be able to see, create the answer options, and more!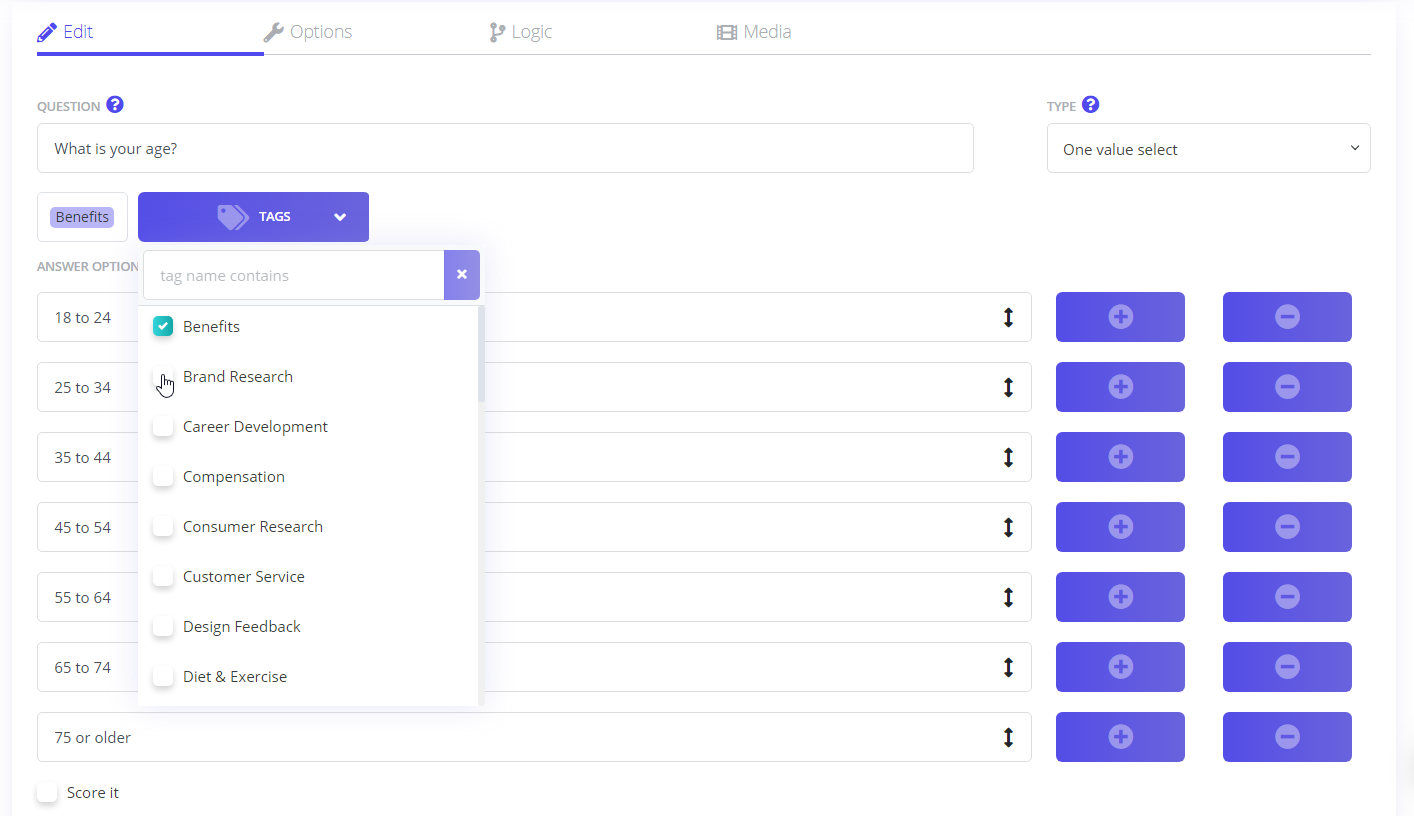 Survey questions can be mandatory as well, so if you require an answer for a question, make sure you check the Options tab.

Question Logic settings can also be applied from the Logic tab. Depending on the answers a person gives when completing your survey, you can send them to specific pages or questions in the survey, so they can skip unnecessary sections.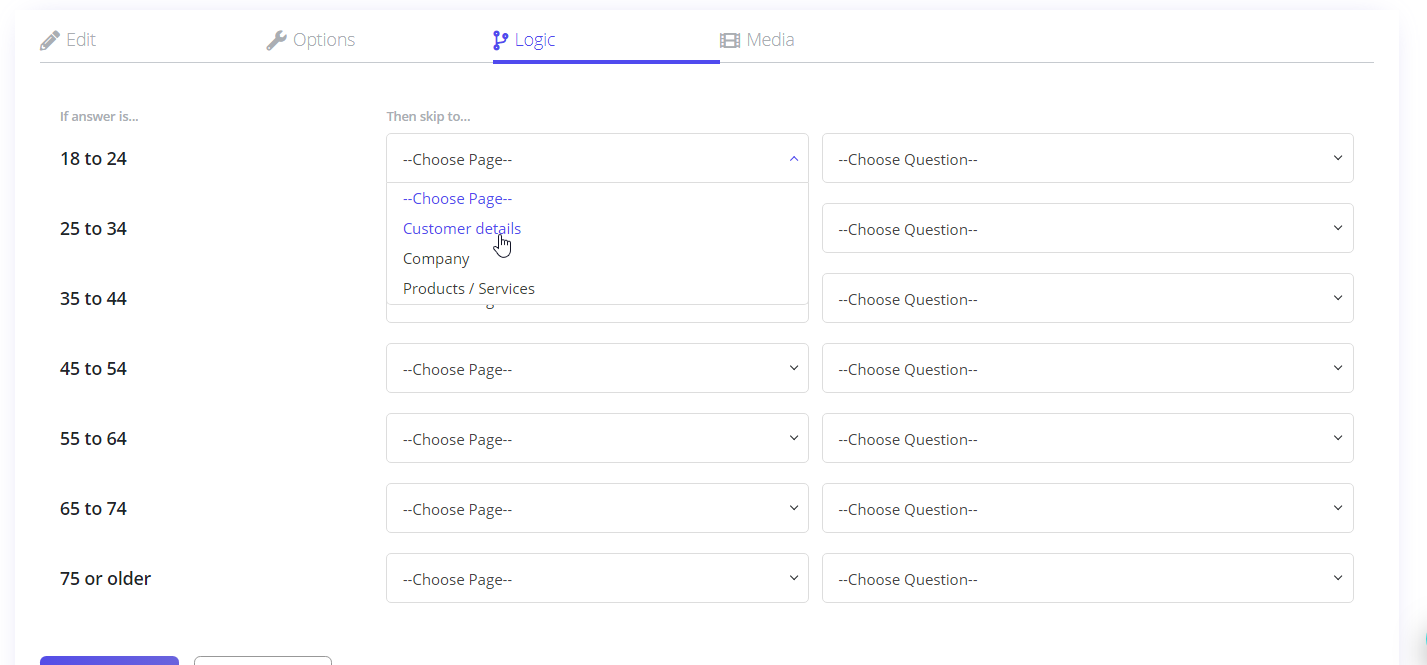 The Media tab is where you can upload an image or a video for a question. You can either add video URLs or embed codes, or upload images which you can position, align and resize as you see fit.
Let's create a new survey question together and go through the steps and customization settings. To add a survey question to a page, click on the Edit icon for that page and on the Add New Question button. This is where you choose which type of question you want to add. Let's choose Multiple Values Select. Type in your question's text. If you want, you can add tags to this question so you can save it for later. Click on the PLUS button and create your first answer option. Write in the answer and create as many other answer options as you need. You can edit, reorder or delete your answer options, anytime. Choose the checkbox type and decide whether you want to score the question or not. You can also add OTHER as an answer option with just one click. Display it as a comment field or answer choice. Click on Save and your question is created. If you want to add more complex question settings, go to Edit and browse through the other tabs as well. You can make the question mandatory, set logic rules, or upload media. Let's add an image to our question to see how it looks. Go to the Media tab and upload an image. Customize its position, align it and resize it as you like. Click on save and now your question has a beautiful image next to it. Your survey is ready, now it's time to see how it looks! Click on the Preview button and see how others will see your survey, on desktop, tablet or mobile. Open in a new window, go back to editing it or start collecting answers right away.