Files storage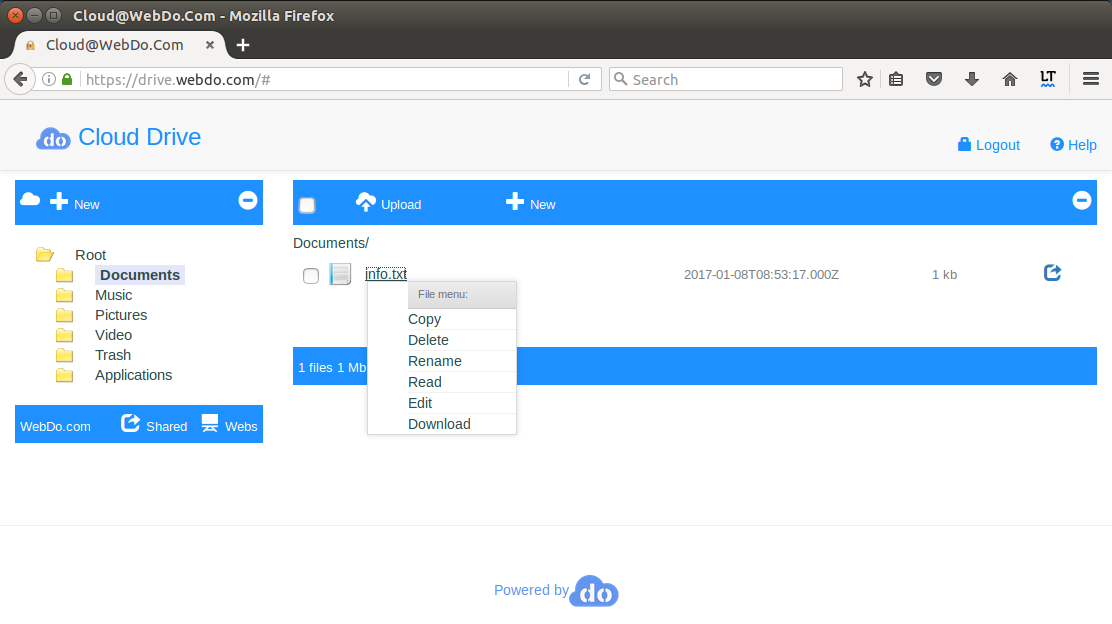 Folders: (left panel menu)

Root folders are fixed. You can not add a new folder directly under Root folder.
Press "New" from left panel to add a new folder to selected folder. The folder name can not be changed later, this restriction was made in favour of application performance, the object storage and micro-databases we use work faster this way. Keep in mind that folders names can not be changed, the only way around is to delete a folder and create a new one. You can delete an empty folder only.
Files: (right panel menu)

Use "Upload" to add files to selected folder.
Use "New" to create a new file. You may create files that can be edited, at this time we offer editors for text based files having syntax support for them (html, js, json, css, ...)
Click on one file will trigger file download. If you chose "Open file" on download dialog, please consider that you will open file locally on your computer, any changes are not automatically saved to the cloud drive (you will need to save the file locally and upload to your cloud folder).


Right-click will open a short menu, you may chose available options for file type (depends on file extension).
All files are kept encrypted on object storages, a dynamic key is used to encrypt or decrypt one file, the key is created in memory at file action request (upload, download) from two keys that are stored in different locations.