Campaigns
Campaigns
Once the editing of a survey has ended, the user may send it to be completed. The process through which recipients are selected and sent e-mails with invitations to complete the survey is called a campaign.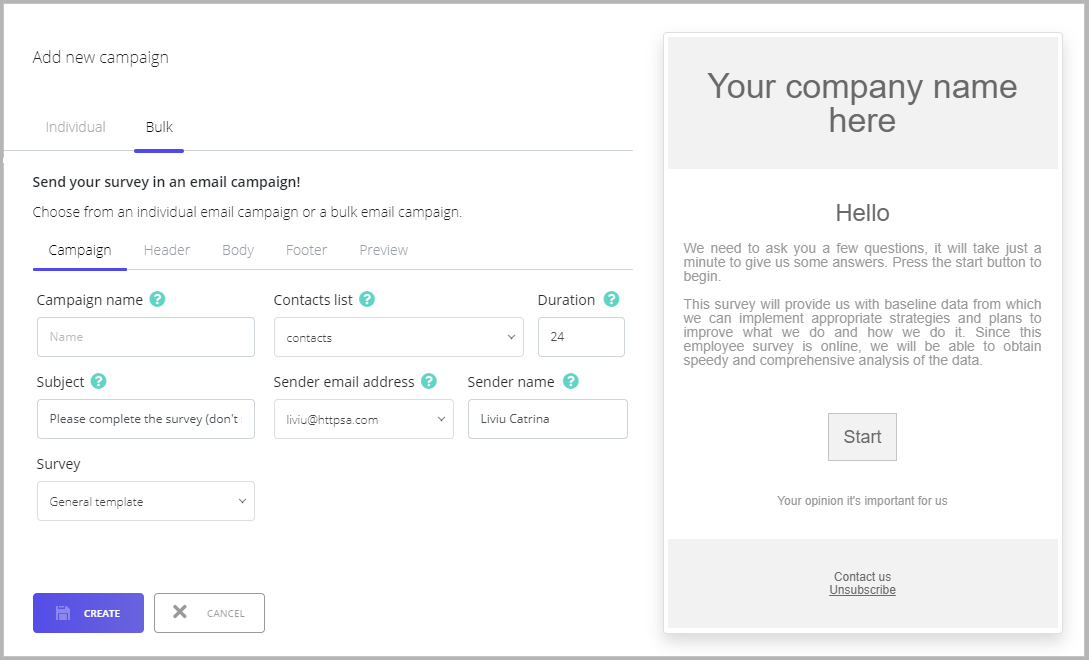 A campaign may be either:

- Individual: a single e-mail is sent, inviting a single recipient to complete the survey; or:
- Group/bulk: the invitation is sent to a group of contacts/subscribers. For more information, see Contacts.
A campaign must feature:

- Name: the title of the campaign, which may be connected to the title of the survey, e.g. Customer feedback. If a survey is used periodically to launch campaigns, the naming may reflect this; e.g. Customer feedback February 2020.
- Survey: the survey that the campaign is based on, that the respondents must complete.
- E-mail address/Contacts list: the recipient/recipients of the campaign.
- Duration: the duration of the campaign measured in hours. After the specified duration has elapsed, the recipients may not open the survey.
- E-mail template: the graphical model of the e-mail sent to the recipients. At the moment, there are three possible models: "General", "Customer feedback" and "Employee engagement".
- Sender name: the user may specify a certain name and surname for the sender. By default, the name and surname under which the user is registered are suggested.
- Sender e-mail address: the e-mail address of the sender. If the user has an e-mail address on the Webdo platform, then this address will be used. If not, then the application will use an address of the format user@httpsa.com. It is recommended that the user create an e-mail address on the Webdo platform, as this reduces the risk of the e-mail going into the spam folder.
- Email subject.
- Email message content: header, title, first body paragraph, second body paragraph, start button text, third paragraph, footer paragraph and unsubscribe text.
- In the preview tab, you can select the email template.
After the campaign data has been entered, the campaign is saved into a list of campaigns and pending launch. The campaign is launched by clicking "Start campaign". A campaign can no longer be edited once it is undergoing the launch process.

In the case of a group/bulk campaign, a progress bar will be displayed, showing how many e-mails have been sent.

Once the launch process has been completed, the campaign is marked as "Campaign sent".
Deleting a campaign is possible, but it must be noted that this involves deleting the data associated with the campaign (answers, respondents that have opened the form etc.).